My Hero Academia
First Air Date: 2016-04-03
Register Free Account
My Hero Academia
People are not born equal, a realization that 4-year-old Midoriya Izuku faced when bullied by his classmates who had unique special powers. Izuku was ...
You May Like Also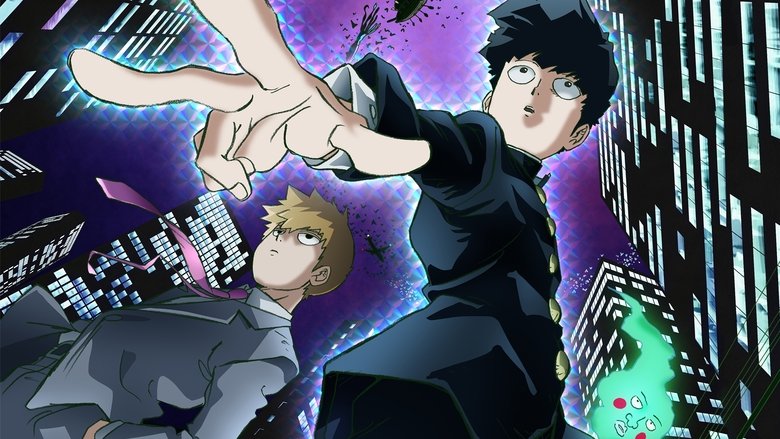 Mob Psycho 100
Mob Psycho 100
Shigeo Kageyama, a.k.a. "Mob," is a boy who has trouble expressing himself, but who happens to be a powerful esper. Mob is determined to live a normal life and keeps his ESP suppressed, but when his emotions surge to a level of 100%, something terrible happens to him! As he's surrounded by false espers, evil spirits, and mysterious organizations, what will Mob think? What choices will he make?
To Love-Ru
To Love-Ru
To Love-Ru is a Japanese manga series written by Saki Hasemi, and illustrated by Kentaro Yabuki, creator of Black Cat. The manga was serialized in Shueisha's manga magazine Weekly Shōnen Jump between April 24, 2006 and August 31, 2009; 18 tankōbon volumes have been published in Japan. A drama CD was released in February 2008 with an original story. A 26-episode anime series adaptation by Xebec aired in Japan between April and September 2008. Six original video animation episodes were produced by Xebec between April 2009 and April 2010. A 12-episode second season by Xebec titled Motto To-Love Ru aired between October and December 2010. A video game was released on the Nintendo DS in August 2008, and another game for the PlayStation Portable was released in October 2008. A continuation of the manga called To Love-Ru Darkness began serialization in Shueisha's Jump Square magazine on October 4, 2010. An anime TV series adaptation for To-Love Ru Darkness produced by Xebec began airing in October 2012. The title, とらぶる, is the English gairaigo "trouble" and "rabu" is the English loan word "love". The title is a pun on the words "love trouble", which describes the harem aspect of the series.
Soul Eater
Soul Eater
Set at the "Death Weapon Meister Academy", the series revolves around three teams, each consisting of a weapon meister and weapon that can transform into a humanoid. Trying to make the latter a "death scythe" and thus fit for use by the academy's headmaster Shinigami, the personification of death, they must collect the souls of 99 evil humans and one witch, in that order; otherwise, they will have to start all over again.
Boruto: Naruto Next Generations
Boruto: Naruto Next Generations
Naruto was a young shinobi with an incorrigible knack for mischief. He achieved his dream to become the greatest ninja in the village and his face sits atop the Hokage Monument. But this is not his story. A new generation of ninja are ready to take the stage, led by Naruto's own son, Boruto.
Dragon Ball Z
Dragon Ball Z
Dragon Ball Z is a Japanese animated television series produced by Toei Animation. Dragon Ball Z is the sequel to the Dragon Ball anime and adapts the last 26 volumes of the original 42 volume Dragon Ball manga series created by Akira Toriyama The series Debut in 1988-1995 on Weekly Shounen Jump. Dragon Ball Z depicts the continuing adventures of Goku and his companions to defend against an assortment of villains which seek to destroy or rule the Earth. The anime first aired in Japan from April 25, 1989, to January 31, 1996, and was dubbed in several territories around the world, including the United States, Europe, and in Latin America.
Death Note
Death Note
Light Yagami is an ace student with great prospects—and he's bored out of his mind. But all that changes when he finds the Death Note, a notebook dropped by a rogue Shinigami death god. Any human whose name is written in the notebook dies, and Light has vowed to use the power of the Death Note to rid the world of evil. But will Light succeed in his noble goal, or will the Death Note turn him into the very thing he fights against?
Fullmetal Alchemist: Brotherhood
Fullmetal Alchemist: Brotherhood
Edward and Alphonse Elric's reckless disregard for alchemy's fun­damental laws ripped half of Ed's limbs from his body and left Al's soul clinging to a cold suit of armor. To restore what was lost, the brothers scour a war-torn land for the Philosopher's Sto­ne, a fabled relic which grants the ability to perform alchemy in impossible ways. The Elrics are not alone in their search; the corrupt State Military is also eager to harness the artifact's power. So too are the strange Homunculi and their shadowy creator. The mythical gem lures exotic alchemists from distant kingdoms, scarring some deeply enough to inspire murder. As the Elrics find their course altered by these enemies and allies, their purpose remains unchanged – and their bond unbreakable.
Bleach
Bleach
For as long as he can remember, Ichigo Kurosaki has been able to see ghosts. But when he meets Rukia, a Soul Reaper who battles evil spirits known as Hollows, he finds his life is changed forever. Now, with a newfound wealth of spiritual energy, Ichigo discovers his true calling: to protect the living and the dead from evil.