Rick and Morty
First Air Date: 2013-12-02
Register Free Account
Rick and Morty
Rick is a mentally-unbalanced but scientifically-gifted old man who has recently reconnected with his family. He spends most of his time involving his ...
You May Like Also
The Lost Room
The Lost Room
A detective investigates a mysterious motel room, which acts as a portal to an alternate universe.
Dexter's Laboratory
Dexter's Laboratory
Dexter's Laboratory is an American comic science fiction animated children's television series created by Genndy Tartakovsky for Cartoon Network. The series follows Dexter, a boy-genius with a secret laboratory filled with his collection of inventions. He constantly battles his sister Dee Dee, who always gains access despite his best efforts to keep her out, as well as his arch-rival and neighbor, Mandark. The series' first two seasons contain additional segments: Dial M for Monkey, which focuses on Dexter's pet lab monkey-turned-superhero, and The Justice Friends, about a trio of superheroes who share an apartment. Tartakovsky first pitched the series to Hanna-Barbera's animated shorts showcase World Premiere Toons, basing it on student films he produced while attending the California Institute of the Arts. Four shorts were created and broadcast on Cartoon Network in 1995 and 1996 before viewer approval ratings convinced the network to order a 13-episode first season, which premiered on April 28, 1996. By 1999, 52 episodes and a television movie had been produced, and Tartakovsky then left the series to begin work on his other projects, Samurai Jack and Star Wars: Clone Wars. In 2001, the network revived the series under a different production team at Cartoon Network Studios, and after 26 more episodes, the series ended on November 20, 2003.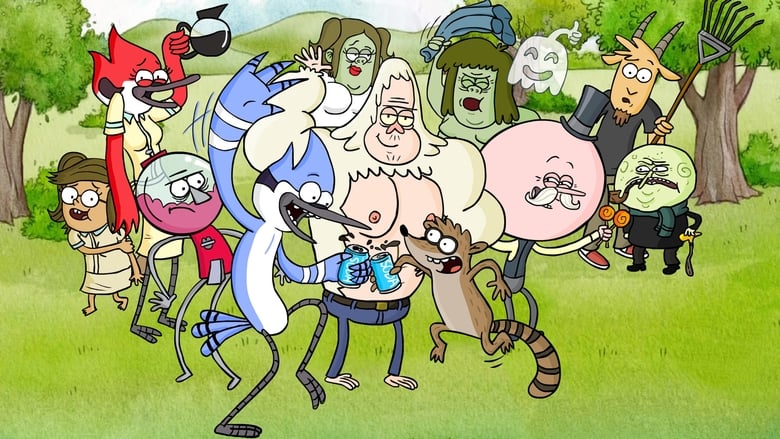 Regular Show
Regular Show
Two bored groundskeepers, Mordecai (a six-foot-tall blue jay) and Rigby (a hyperactive raccoon) are best friends who spend their days trying to entertain themselves by any means necessary, much to the displeasure of their boss. Their everyday pursuits often lead to things spiraling out of control and into the surreal.
Alcatraz
Alcatraz
Alcatraz is an American television series created by Elizabeth Sarnoff, Steven Lilien and Bryan Wynbrandt, and produced by J. J. Abrams and Bad Robot Productions. The series premiered on Fox on January 16, 2012, as a mid-season replacement. Switching between eras, the series focuses on the Alcatraz prison, which was allegedly shut down in 1963 due to unsafe conditions for its prisoners and guards. The show's premise is that both the prisoners and the guards disappeared in 1963 and have abruptly reappeared in modern-day San Francisco, where they are being tracked down by a government agency. The series starred Sarah Jones, Jorge Garcia, Sam Neill and Parminder Nagra. The show was cancelled on May 9, 2012.
Futurama
Futurama
The adventures of a late-20th-century New York City pizza delivery boy, Philip J. Fry, who, after being unwittingly cryogenically frozen for one thousand years, finds employment at Planet Express, an interplanetary delivery company in the retro-futuristic 31st century.
Quantum Leap
Quantum Leap
Theorizing that one could time travel within his own lifetime, Dr. Sam Beckett stepped into the Quantum Leap accelerator and vanished... He woke to find himself trapped in the past, facing mirror images that were not his own and driven by an unknown force to change history for the better. His only guide on this journey is Al, an observer from his own time, who appears in the form of a hologram that only Sam can see and hear. And so Dr. Beckett finds himself leaping from life to life, striving to put right what once went wrong and hoping each time that his next leap will be the leap home.
Doctor Who
Doctor Who
The adventures of a Time Lord—a time-travelling humanoid alien known as the Doctor—who explores the universe in his TARDIS, a sentient time-travelling space ship. Its exterior appears as a blue British police box, which was a common sight in Britain in 1963 when the series first aired. Along with a succession of companions, the Doctor faces a variety of foes while working to save civilisations, help ordinary people, and right wrongs.
Torchwood
Torchwood
Torchwood is a British science fiction television programme created by Russell T Davies. The series is a spin-off from the 2005 revival of the long-running science fiction programme Doctor Who. Torchwood follows the exploits of a small team of alien hunters, who make up the Cardiff branch of the fictional Torchwood Institute, which deals mainly with incidents involving extraterrestrials.