Supernatural
First Air Date: 2005-09-13
Register Free Account
Supernatural
When they were boys, Sam and Dean Winchester lost their mother to a mysterious and demonic supernatural force. Subsequently, their father raised them ...
You May Like Also
Blue Exorcist
Blue Exorcist
Humans live in the world of Assiah, demons in Gehenna. The two dimensions are not meant to interfere with each other, but demons still possess creatures in Assiah in spite of this. The humans who can fight these demons are known as exorcists. Rin Okumura is a boy who bears the curse of being Satan's illegitimate son. His foster father sacrificed himself to save him from demons. To avenge his foster father's death as well as to prove himself, Rin decides to follow the path of an exorcist.
Buffy the Vampire Slayer
Buffy the Vampire Slayer
Into every generation a slayer is born: one girl in all the world, a chosen one. She alone will wield the strength and skill to fight the vampires, demons, and the forces of darkness; to stop the spread of their evil and the swell of their number. She is the Slayer.
Highway to Heaven
Highway to Heaven
"Highway to Heaven" follows a probationary angel sent back to Earth who teams with an ex-cop to help people. This was the final TV series starring the legendary Michael Landon (Bonanza).
Touched by an Angel
Touched by an Angel
Touched by an Angel is an American drama series that premiered on CBS on September 21, 1994 and ran for 211 episodes and nine seasons until its conclusion on April 27, 2003. Created by John Masius and produced by Martha Williamson, the series stars Roma Downey, as an angel named Monica, and Della Reese, as her supervisor Tess. Throughout the series, Monica is tasked with bringing guidance and messages from God to various people who are at a crossroads in their lives. From season three on, they are frequently joined by Andrew, the angel of death.
Blood Lad
Blood Lad
Staz is a vampire from the surreal "Demon World", and Fuyumi, an ordinary girl, accidentally wanders into the Demon World through a portal. Subsequently after meeting each other, Fuyumi is killed by a carnivorous plant and turned into a ghost, causing Staz to take responsibility and pledge to help bring her back to life.
Penny Dreadful
Penny Dreadful
Some of literature's most terrifying characters, including Dr. Frankenstein, Dorian Gray, and iconic figures from the novel Dracula are lurking in the darkest corners of Victorian London. Penny Dreadful is a frightening psychological thriller that weaves together these classic horror origin stories into a new adult drama.
Stranger Things
Stranger Things
When a young boy vanishes, a small town uncovers a mystery involving secret experiments, terrifying supernatural forces, and one strange little girl.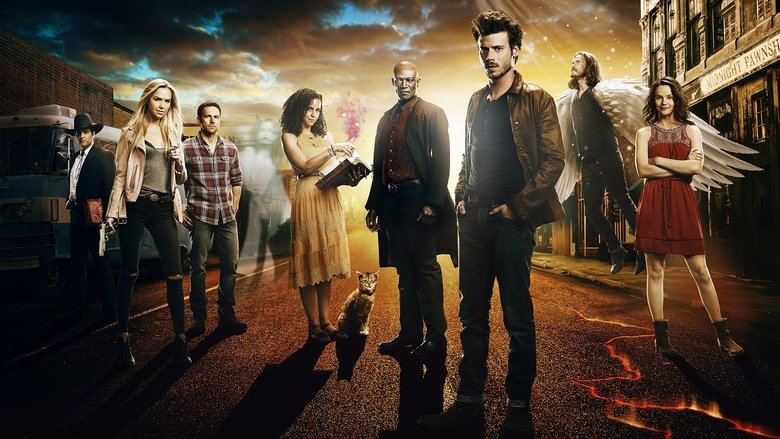 Midnight, Texas
Midnight, Texas
Welcome to a place where being normal is really quite strange. In a remote Texas town no one is who they seem. From vampires and witches to psychics and hit men, Midnight is a mysterious safe haven for those who are different. As the town members fight off outside pressures from rowdy biker gangs, ever-suspicious cops and their own dangerous pasts, they band together and form a strong and unlikely family.